Paranormal/Witch Cozy Mystery
Date Published:
September 5, 2017
Andie Taylor is your average single mom. She's got a beautiful toddler, a great job at the local preschool, a neurotic best friend and one huge secret—she used to hunt vampires. Now retired, Andie would much rather be wiping kid snot off her clothes than stalking the undead.
But after a meteor rips through her small town, strange things start happening—like the school janitor is found dead with fang marks in his neck.
Andie's retired, it's not her problem.
Until vampires attack Andie on her front lawn. Now she has to figure out who the head bloodsucker is and stop him from taking any more victims—all while juggling single motherhood, a crazy great aunt, and Andie's own lust for a fallen angel. Can she solve the mystery before the vampires claim someone else? Or will she become the next target of the bloodsuckers?
Review
Another great Paranormal Mystery from Amy Boyle!
I love Amy's writing style. She pens quirky and fun leads who don't mess around. Andie is no different.
I loved the mystery element to this novel. I felt like it kept me on my toes.
Characters and plot are both well developed.

Overall a great addition to the Paranormal bookshelf!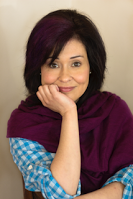 Amy Boyles grew up reading Judy Blume and Christopher Pike. Somehow, the combination of coming of age books and teenage murder mysteries made her want to be a writer. After graduating college at DePauw University, she spent some time living in Chicago, Louisville, and New York before settling back in the South. Now, she spends her time chasing two toddlers while trying to stir up trouble in Silver Springs, Alabama, the fictional town where Dylan Apel and her sisters are trying to master witchcraft, tame their crazy relatives, and juggle their love lives.