Date Published:
11/04/2017
Publisher: Leap of Faith Publishing
Sean Johnson's life as a small-town farmhand has been nothing but predictable, but when he meets Sophia Hillingdon at the local animal sanctuary, she gets him out of an eighteen-year rut, away from the mundane existence on the farm, and a grieving, drunken father.
Sophia is the first person who understands him and makes him believe that he might get out of their small town, who tells him, he has the potential to be whoever he wants to be and do whatever he wants to do.
But as their relationship unfolds, it is the most devastating of news that will change both of them forever.
Review
Wow! This book was so much more than I was expecting.
7 Days With You features quite a cast of quirky characters, many of whom charm the reader's heart despite their unique first impressions.
I anticipated a lot of what would happen as it unfolded. However. The wonderful characters combined with the author's talent for snark and witty dialogue compensated for what it lacked in mystery, making it a captivating read from cover to cover.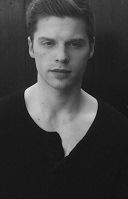 Hugo Driscoll is a 25-year-old British author and content writer for an online publication in London.
When he's not working, you can usually find him writing in the basements of cafes or looking serious in black and white photos.
You can also find Hugo on Twitter, Facebook, and his personal blog, which he updates regularly.
Seven Days with You is his first novel.