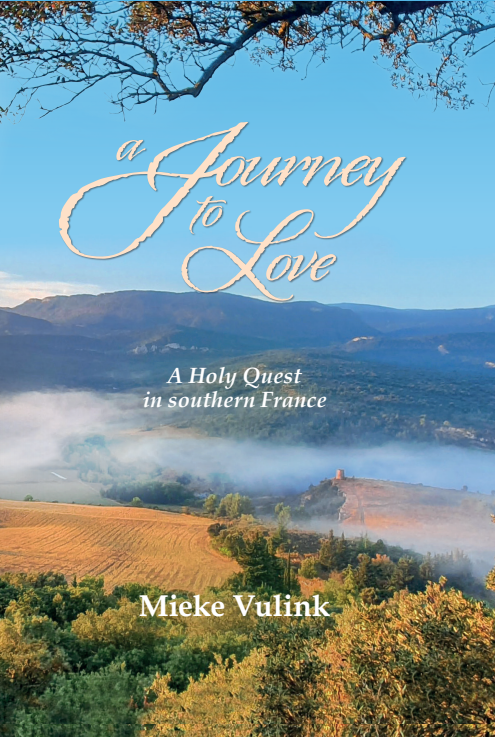 A Holy Quest in the South of France
Nonfiction › Body, Mind & Spirit › Angels & Spirit Guides
Date Published: September 8, 2023 (tentative)
Publisher: Serapis Bey Publishing
This book is a heart-warming, personal account of a Holy Grail Journey and the awakening to the inner guidance from the Light World. The reader is transported to other dimensions that go far beyond to what is accessible with our limited human thinking. From a heightened state of consciousness, the author meets essential parts of herself and her ancient connections with Yeshua, Mary Magdalene and the Holy Family become clear. Held by all aspects of love, you will find precious messages here that will encourage you on your own, inner and divine Journey to Love.
Early Reviews for this book
"In this touching and direct personal narrative, the reader accompanies Mieke and Eva on a transformational journey through geographical spaces of the Cathar country and back in time to revisit ancient resonances of spiritual truth that can be reborn in our time as a new awareness of the sacred, and especially of the key role of Mary Magdalene in early Christianity. It is an inspiring message of love for our time and a reminder of our perennial quest for wisdom and understanding."
David Lorimer, author and editor, paradigm explorer and programme director, Scientific and Medical Network, France
"This book is a beautiful, very pure account of a special journey with Mieke and her daughter Eva. Reading it took me to deeper layers of myself and the environment I live in, Cathar country, to layers that I somewhere knew existed, but that could now come to the surface and are oh, so precious. Through reading Mieke's book I've been able to make an even deeper connection to the Christ-consciousness and inner guidance, for which I'm deeply grateful. Our cooperation has been a real gift."
Marianne van Mierlo, Dutch to English translator, France
"Mieke has been guided from deep within her soul to share her sacred journey through 'A Journey to Love'. The beauty of her spirit shines through her sacred sharing and is taking us into higher dimensions from within a place of light. The magic of this book is that it opens up the reader to experience the mystical journey of the ancient power of Mary Magdalene and Jesus and the Beloved union of their souls that calls us home to love, in these modern times of uncertainty. As all mystical teachings, this book helps you to discover the true power of the Holy Grail and the holy source of Divine forces awakening within your heart. Prepare for a journey to love without limits and a lif- transforming experience."
Judith K. Moore, Oracle of the Records of Creation, United Kingdom
About the Author
Mieke Vulink has devoted her life to the esoteric, mystical and sacred knowledge and initiation pathways. It is her passion to help other people become conscious of their own Divinity and to support the desire to connect with the Divine. She is a therapist and teacher in transformation and self-realisation; a teacher of essential healing; consciousness coach; a clairsentient medium; author; lightworker; and musician.
Mieke Vulink was born in 1962 in the Netherlands. As a highly-sensitive child, the piano was a perfect instrument for Mieke to express her feelings and inner knowledge of harmony and sound. Her first earthly career was in music, as a concert pianist, piano teacher and composer. During Music Highschool, she discovered another interesting world of: sound healing; spirituality; esoterism; mysticism; and the inner path of awakening to our Divine essence.
It became her passion to make conscious and tangible what can be changed and healed on everyone's journey to higher layers of consciousness. As a result of her own inner work, and the fine-tuning of her sensitivity, intuition and clairsentience, her connections with ascended masters and higher dimensions became stronger. Becoming more conscious of the illusions and duality we are living in, she discovered that she could heal the fears she carried inside from many lifetimes in which we all suffered, were manipulated and destroyed as human beings and as a result lost our connection with our inner Source/God.
For the past 15 years she has dedicated her life to the inner guidance from her connection with Source, knowing that self-healing from everyone's own Source can be realised. With this guidance came the callings to special, sacred places on Earth and after the first journey to the south of France her first book was born!
Mieke has been working for 35 years as a: guide for self-realisation and transformation; therapist; healer; teacher of essential healing; coaching conscious medium; and as a Lightworker.
Contact Links
Website (translation in many languages!)